Understanding End-User License Agreements
Oct. 18, 2023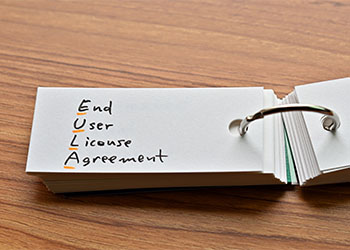 When you create a product or concept, you may expect that you will be properly compensated for your work and that others will use it only according to your specifications. In reality, you may find that people are eager to take credit for—or illegally distribute—your work.
If you need assistance with protecting your intellectual property, call me at the Law Office of Julie Scott LLC in Kansas City, Missouri. I am here to assist you with your questions and issues involving intellectual property, content, trademarks, and patents. I serve clients in Kansas City, Columbia, Springfield, and Rolla, Missouri.
One way to protect your intellectual property involves setting up an End-User License Agreement. An End-User License Agreement is a legally-binding agreement between the owner of the product or concept and any person who wishes to use it. It outlines the conditions under which a user can access, use, modify, or distribute the work.
Below, I've provided some basic information about End-User License Agreements and how they can help protect you as a copyright holder.
What Is Included in End-User License Agreements
An End-User License Agreement (EULA) can help to protect you as an owner or licensor of proprietary information. The EULA gives the end-user (or the person who downloads or intends to use your product, also called the licensee) the ability to use the product (whether it's an app, other software, etc.) under certain conditions. This is a legally-binding agreement and a license purchased by the user; the user does not own the product itself or any part of the product, but is essentially leasing or renting the product for their own personal use.
Why Are EULAs Important?
An EULA is important because it allows you to receive compensation for your work; if you do not include the EULA with your product stating that the user is buying a license to use it, the product can be used for free. In addition, an EULA allows you to set specific limits for how the end-user can use the product, preventing the product from being copied or changed illegally.
Components of EULAs
EULAs usually contain certain components that set out the terms of the licensing agreement, specifically setting out how the end user can use the product. The basic sections that every EULA should include are listed below.
Disclaimers
A disclaimer states that the product is being downloaded/used "as-is." This means that, if there is a problem with the product or it creates a problem for the licensee, the owner is not liable.
Governing Law
This specifies which state's law will apply in case there is a dispute over the agreement.
Infringement Acknowledgments
This section states that the licensee cannot infringe upon the owner's copyright and that the licensee will take responsibility should they violate copyright agreements.
Licensors and Licensees
As the licensor you should include your name, address, and company contact information as well as require this information from the licensee.
Limitations
This gives you the opportunity to state how exactly the licensee can use the product, as well as to state the restrictions that apply when using the product.
Terminations
Here, you can state the grounds for termination of the agreement (for example, which violations on the licensee's part would be cause to terminate the agreement).
Maintenance and Support
This section may explain what type of maintenance or support is available to the user and how they will be able to access that support.
Site Licenses
You may want to include language indicating whether the license includes the right to download or use the product on more than one device.
Pros and Cons of EULAs
As stated above, the EULA gives you a way to manage others' use of your product while being directly compensated for that use. It also allows you to set proper parameters for the user, lowering the risk of copyright infringement and improper use of your product.
However, there are downsides to EULAs. EULAs can be very long, leading to users not reading the agreements in their entirety before they sign them. And, users might not understand everything written in the agreement, which can lead to a violation of the agreement.
For this reason, it is important to enlist the help of an attorney when drafting your EULA. An intellectual property attorney can assist you with the wording of your EULA so that it sets the parameters that you want to specify, is legally enforceable, and is readily understood.
Trusted and Experienced Guidance
If you need assistance with an End-User License Agreement in Missouri, call me at the Law Office of Julie Scott LLC, serving Kansas City as well as Columbia, Springfield, and Rolla. I will help you to craft an agreement that protects your intellectual property now and in the future. Above all, I am eager to protect my clients' creations and ensure that my clients receive due compensation and credit for their work. Contact me today to schedule a free consultation.